Why is a car loan better than a car lease?
A car loan is a consumer credit with the purpose to buy a car or to cover expenses related to a car. There are very few restrictions when taking a car loan compared to what banks or leasing companies offer.
Car Leasing
Car leasing is a type of loan for the purchase of a car. Upon leasing, the borrower acquires the right to use the car, but the lender (lessor) becomes the owner of the purchased car.
may often be more expensive than taking a car loan as a leasing contract usually stipulates a casco insurance obligation
In the event of traffic accident, traffic insurance compensates the property and personal damage to the injured party. Comprehensive insurance, on the other hand, is voluntary traffic insurance, which provides additional insurance protection. Comprehensive insurance will reimburse the insured for any damage sustained to the car regardless of who had caused the accident.
Naturally, insuring one's precious assets is a reasonable way to limit the costs of possible future losses, but insurance represents a significant additional monthly expense that a car loan does not involve.
Car insurance expenses depend on both the insured vehicle and its responsible user. At the same time, a car loan is a financial obligation that must be repaid together with interest and other borrowing expenses. Consider borrowing thoroughly. Failure to pay the loan on time will increase your expenses, as lenders will charge both default interest and contractual penalties for any late payment.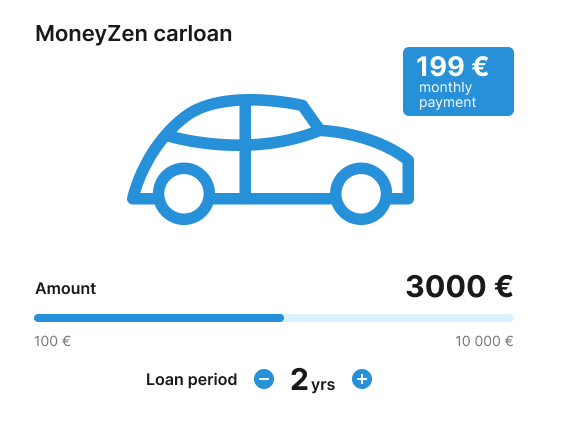 Advantages of MoneyZen Car loan
Reasonable interest rate
MoneyZen loan interest rates are set as a result of an underbidding. That means MoneyZen mediates only loan offers with the lowest interest rates to the borrowers. This is the reason why MoneyZen offers better terms than the competitors.
You become the owner of the car
As an owner of the vehicle you have no restrictions on using the car. For example, you do not need to ask a leasing company for additional permission for driving abroad or lending your car to a friend. Casco insurance also remains voluntary for you.
No additional expenses
You do not need to pay for the evaluation of the car or for changing the car ownership again when the car leasing is paid. If you still want to insure your car, you will decide on which conditions. To drive a car you only need to have a valid inspection and a traffic insurance policy.
You can buy exactly the car you want
MoneyZen Car loan is suitable for buying any car you like regardless of its age. Buy the car that is right for you.
Calculate repayment
Recommendations before applying for a loan
Consider carefully if you actually need a loan and in which amount. If you can save the necessary amount of money even with monthly savings, you can avoid expenses related to a loan.
Investigate and compare the loan terms of several loan providers. This way you can pick the best offer available. In addition to the monthly payment, remember to pay attention to the loan interest rate, the cost of credit expressed as an annual percentage rate and to the total amount to be repaid including all the fees.
All your loan repayments should not exceed 33 percent of your monthly income. This will enable you to continue repayments even in the event of temporary job loss, sick leave or accident.
Make sure that you have considered all additional conditions and expenses. Read everything written in small letters and ask for explanations if necessary to avoid additional obligations.
The terms of MoneyZen Car Loan
400 - 10000€
Loan amount
3 months - 3 years
Loan period
from 14% per annum
Interest Rate
How to apply for a MoneyZen Car Loan?
1
Submit a MoneyZen Car Loan application
Use the loan calculator to select your preferred loan amount, monthly payment and contract period. Applying for a loan is free of charge and does not oblige you to take a Car Loan from MoneyZen.
2
Accept MoneyZen's Car Loan Offer
MoneyZen uses the information provided in your loan application to make the most favorable loan offer. Check the terms and conditions and ask MoneyZen loan manager for help. Then sign a MoneyZen Car Loan agreement.
3
Transfer money to your bank account
Immediately after signing the loan agreement, the money will be credited to your virtual account. You need to confirm the transfer of money from the virtual account to your personal bank account in your personal profile.